Bihar Board 12th Examination 2022 Date Sheet – The date of the 12th Bihar 2022 Board exam has been announced Students can download their 12th Bihar 2022 Time Table through the link below. According to the Bihar Board, the exams for the 12th exam 2022 will begin as of February 2, 2022. The date has been published on the official site of Bihar board biharboardonline.bihar.gov.in. Bihar Board 12th Exam Date 2022 is available separately for Science, Commerce, Arts and Professional Stream below.
इंटरमीडिएट वार्षिक परीक्षा, 2021 का परीक्षा कार्यक्रम। pic.twitter.com/GAC4ziUcxE

— Bihar School Examination Board (@officialbseb) October 7, 2020
BSEB Inter Time Table Download 2022
BSEB declares the exam calendar of Bihar Intermediate Arts, Science, Commerce. The intermediate exam will be done in two shifts. And the date/time is given below.
About 10 Lakh students appeared each year for the intermediate exam. This year, intermediate exams for all transmissions will begin on February 2, 2022. Students can view complete information on BSEB Intermediate Date Sheet 2022 from here.
| | |
| --- | --- |
| Board Name | Bihar School Examination Board |
| Exam Name | BSEB Bihar Board Inter Exam 2021 |
| Routine Release | Oct |
| Exam Date | 01 February 2022 |
| Official Website | biharboardonline.bihar.gov.in |
How to download BSEB 12th exam routine 2022
Candidates should visit the official website biharboardonline.bihar.gov.in
Click on the link "Time table of the 12th exam 2022"
A new window will open containing the exam date sheet.
Check the exam calendar here and get a hard copy.
Bihar Board 12th Date Sheet 2022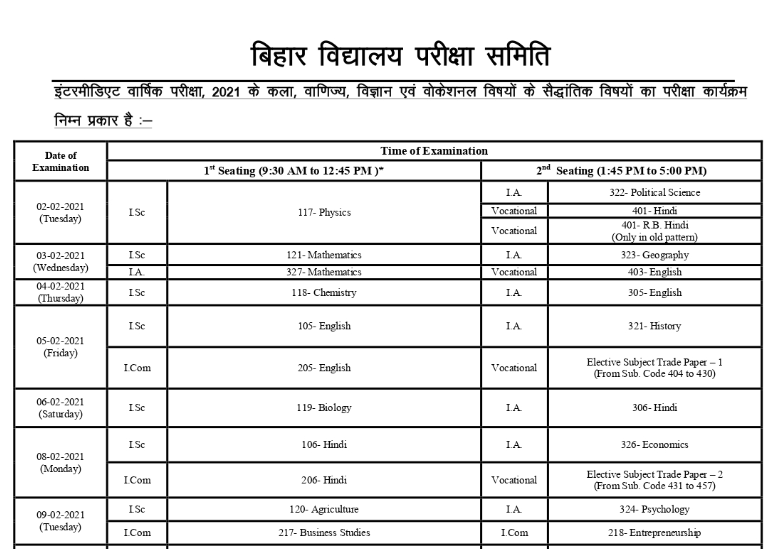 Date and Day
1st Sitting (9:30 am to 12:45 pm)
2nd Sitting (1:45 pm to 5:00 pm)
1st February 2022(Tuesday)
121 – Mathematics (I.Sc)
327 – Mathematics (I.A)
306/331 – Hindi (I.A)
401 – Hindi (Voc)
2nd February 2022(Wednesday)
117 – Physics (I.Sc)
305/330 – English (I.A)
403 – English (Voc)
3rd February 2022(Thursday
118 – Chemistry (I.Sc)
323 – Geography (I.A)
120 – Agriculture (I.Sc)
4th February 2022(Friday)
105/124 – English (I.Sc)
205/223 – English (I.com)
321 – History (I.A)
Elective Subject Trade Paper – I [from subcode 404 to 430] (Vocational)
7th February 2022(Monday)
119 – Biology (I.Sc)
322 – Political Science (I.A)
217 – Business Studies (I.com)
8th February 2022(Monday)
106/125 – Hindi (I.Sc)
206/224 – Hindi (I.com)
326 – Economics (I.A)
219 – Economics (I.com)
9th February 2022(Wednesday)
Language Subject (I.A, I.Sc, I.com, Voc)
324 – Psychology (I.A)
218 – Entrepreneurship (I.com)
10th February 2022(Thursday)
318 – Music (I.A)
402 – Foundation Course (Voc)
319 – Home Science (I.A)
Elective Subject Trade Paper – II [from subcode 431 to 457] (Vocational)
11th February 2022(Friday)
325 – Sociology (I.A)
Elective Subject Trade Paper -3 (From Sub. Code 458 to 484) (Only in old pattern)
101/201/301 – N.R.B (I.A, I.Sc, I.com)
12th February 2022(Saturday)
220 – Accountancy (I.com)
320 – Philosophy (I.A)
M.B (I.A, I.Sc, I.com)
14th February 2022(Monday)
Additional Subject
Computer Science (I.Sc, I.Com, I.A)
Multi-Media and Web Technology (I.Sc, I.Com, I.A)
Yoga and Physical Education (I.A)
485- Physics, 486 Chemistry, 487- Biology, 488- Mathematics, 489 -Agriculture, 490- Business Study, 491-Accountancy, 492- Entrepreneurship, 493- History, 494- Political Science, 495 – Sociology, 496- Economics, 497 – Psychology, 498- Home Science, 499- Geography, 500- Music, 501- Philosophy, 502- Yoga & Phy. Education
About BSEB
The Bihar School Examination Board is established for holding and conducting an examination at the end of the Secondary School stage, for prescribing a course of studies for such examination and for carrying out such other objects and duties as may be considered necessary for the purpose as stated in the Act, Rules, and Regulations of the Board.
Normally every year the Bihar School Examination Board conducts Annual Secondary School Examination in the month of February/March and Supplementary School Examination in the month of August/September on the basis of course/syllabus as prescribed by the State Government.
Apart from the aforesaid Secondary School Examination, the Board also conducts departmental examinations (not on yearly basis) such as Diploma in Physical Education, Certificate in Physical Education and Teachers Training Examination on such terms and condition as laid down by the State Government.